Hello to the Newton community.
La Moustache Studio, in which I work(co-founder), is proud to show its first title: BOMB:
"BOMB: Who let the dogfight ?" is an adventure combat flight game, mixing (many) arcade and (a few) simulation elements, available right now on Windows / Mac / Linux.
Description
What happens when you mix Crimson Skies' fast-paced aerial combat with the humor and stylings of animated classics like TaleSpin and Porco Rosso? You get La Moustache Studio's newly released game for PC-- BOMB! In BOMB, you'll jump into the cockpit and run missions in the skies above and around a tropical paradise and experiencing the aerial adventure of a lifetime!
History
The Studio
In 2007, we (two friends) wanted to do a "Serious Sam-with-planes" game so we started to work on a game engine as a hobby. Both unemployed in December 2011, we went full time from then until now. BOMB is our first game and is 100% independent.
Note of intent
The game is about dogfight : you're in an armed aircraft and you shoot at another aircraft, simple. The controls are a mix between simulation and arcade, meaning flight models use real aircraft forces (lift, drag, etc..) but they are over-powered and light-weighted, so the flight dynamics are a more interesting than a totally arcade game : You must maneuver in 3D! Therefore, a joystick is strongly recommended, a gamepad with analog sticks is great too, but we don't recommend the keyboard experience. As an increasing amount of people were demanding it, we've added a mouse control mode. The game has both single and multi player game modes, including a solo adventure with a story. Modding tools are complimentary. Above all, this game is made to have fun!
The game is OUT on
Steam
The new trailer:
And the old one, more classical.
We also have a devblog here :http://blog.lamoustache-studio.fr/
Technologies used are Newton for physics, Ogre for rendering, lua for scripting, and enet for multiplayer, all of them merged in our custom game engine.
Some screenshots: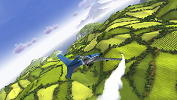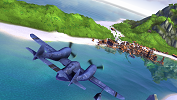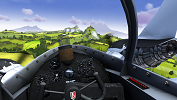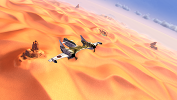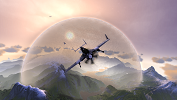 The presskit